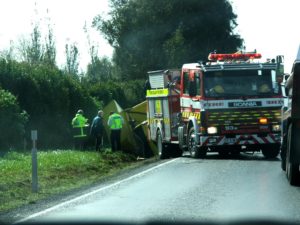 Those driving in icy winter driving conditions or after winter holidays must pay careful attention to the roads—that's because 17 percent of all vehicle accidents take place during winter months, according to the National Highway Traffic Safety Administration (NHTSA). Truck accidents are particularly dangerous, and they're on the rise. NHTSA offers several tips for preparing to drive safely in the winter, whether you're in a truck or not:
Prepare your vehicle to operate safely
Winter brings cold weather and festive holidays, both of which can lead us to neglect car maintenance and repairs. NHTSA advises taking your car or truck in for regular tune-ups and maintenance, focusing on your vehicle's battery, tires, and wipers, which are used heavily in rainy and icy conditions. Be sure to clear snow, ice, or dirt from the vehicle windows and headlights and tail lights. In addition, properly install and maintain snow tires.
Prepare to drive safely
NHTSA suggests proceeding slowly, allowing extra time to arrive at a destination. This is just as important for icy conditions as it is for holiday traffic. Plan for delays en route. Furthermore, all vehicles handle a bit differently, so know how your vehicle will react in inclement weather. NHTSA also reminds drivers and passengers to wear seatbelts. Children should ride in age-appropriate child seats. Finally, before and after holiday dinners and gatherings, do not drive under the influence or when distracted by electronic devices. No one wants to spend a holiday in the emergency room after an accident, so as many public service announcements related to texting and cell phone use advise: "It can wait."
Prepare for an emergency
You never know when you might find yourself stuck on the side of the road during a snowstorm. Keep jumper cables, flares, flashlights, blankets, and other emergency supplies in your vehicle at all times. NHTSA suggests that even if you do not need these supplies, you might help someone else who does.
Unfortunately, no amount of preparation can completely eliminate the risk of an accident. If an accident hurts you, take steps to protect your rights. Exchange information with the other driver involved, obtain a copy of the police report, undergo a thorough medical evaluation, and call a lawyer as soon as you can.
Call Us Today to Speak With a Philadelphia Car Accident Attorney
While preparing your vehicle and yourself to drive with caution this winter will serve you well, accidents do happen. If you find yourself in a vehicle accident after driving in winter conditions, knowing the number of a trusted law firm will provide reassurance as you recover. To schedule, free case evaluation with Philadelphia Injury Lawyers, call today or complete and submit our online contact form.