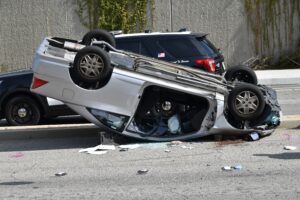 The majority of car accidents are caused by human error. Distracted driving, speeding, drowsy driving, damaged roadways, defective vehicles are some of the common causes of car accidents.
Following are a few important steps you should take to avoid a car accident:
Keep Your Distance
It is advisable to avoid driving too close to the vehicle in front of you. Keeping a distance between your car and the vehicle in front of you can save your life.
Avoid Distractions
There are a lot of distractions in our daily life. Using mobile phones, texting, creating videos should be avoided while driving. When you are on road in your car, you need to give 100% of your attention to the road.
Avoid Midnight Driving
Midnight driving is not less than a challenge as it comes with a higher risk of accidents. During this time, drunk drivers are also on the roads. In case you are driving after midnight, be sure to stay extra alert.
Do As Much Practice Driving As Possible
It is important to do a lot of practice driving to understand all the rules and regulations associated with driving. You should maintain a regular schedule for practice driving. It will help you drive safely in the long-run.
Keep Your Car in Good Working Condition
The majority of automobile accidents are caused as a result of damaged brakes, broken suspensions, tire blow-outs, and other faults. So, it is important to stay up-to-date with car checkups. Take your car to an experienced auto technician if it is making any odd noises. If it is running properly, then you can drive in a stress-free manner.
Stay Extra Alert During Bad Weather
Driving in bad weather is really difficult. It is advisable to consider increased stopping distances and decreased visibility and control. Before taking your car on the road, you should shovel ice or snow so that you can see clearly through windows and mirrors. Also, don't forget to check the condition of your car's tires. You need to reduce speed while driving in bad weather.
Control Your Speed
If you are driving your vehicle at a high speed, there are higher chances of an accident. It is important to accelerate smoothly and keep your vehicle's speed steady while driving down straight roads.
Always Wear A Seat Belt
Majority of people killed in car accidents unrestrained. So, don't skip wearing a seat belt as it will lower your chances of injury several-fold.
No matter how alert you are, accidents can still happen anytime. By following the above-mentioned ways to prevent car accidents, you can drive defensively.
When you are injured in a car accident due to the negligence of another person, you deserve maximum possible compensation for your injury with the help of a law firm. It is advisable to hire one of the leading attorneys or lawyers to receive compensation. A professional car accident lawyer Philadelphia will provide the best legal support for your case.