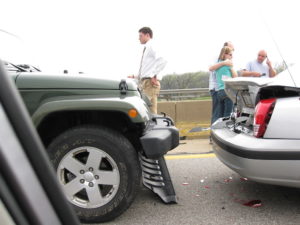 Have you been involved in a recent car accident? If you are still unsure whether you should file a car accident police report, let me give you further enlightenment on this issue. For record purposes of police, accident reports are essential in the collection of statistics on car accidents happening in a particular state. Car accidents report provide accurate data to the government, helping them come up with better and stricter rules in implementing road safety. So, if you will ask this compelling question after involvement in a recent car accident, "Should I file a report?" here are some scenarios that will tell you what you should do.
Scenario #1
Some drivers who have been involved in car accidents feel that filing a police report is needed when filing an insurance claim. In fact, when you file a car accident police report, you have peace of mind that your incident is properly recorded on the "books" and in the event your insurance company wants proof of this particular accident, you can easily get a copy from your local state police office.
Scenario #2 
In the event, your car accident didn't cause injury to you or the other driver and no property damage incurred if this incident happened in Philadelphia according to a car accident lawyer, the policemen of the Philadelphia Police Department (PPD) will not usually go to the accident scene, but the drivers of both vehicles must file the "Accident Report" within the duration of five days of the crash.
Why file the report?
There are underlying reasons that filing a report seems the wisest thing to do, especially if it's a case of car accident. Why? The future may bring complications or uncertainties that you may not foresee to happen and having a police report could be useful in case the following events arise:
The other driver decided to pursue legal charges after contacting a lawyer in Philly.

The complications as well as other signs of injuries only appeared late like days or weeks after the actual collision. So, if you developed a serious back, neck, or head trauma injury, you will need to file an insurance claim or lawsuit on your own. A recorded report of this

Car Accident Lawyer Philly

will be considered as proof or evidence to support your story. In the event, you failed to notify your insurer about your accident, they may not cover any medical expenses that occurred in the scene of the accident.

The other driver may decide to file an insurance claim. In Pennsylvania, auto insurance is a bit complicated because there are technicalities that an ordinary individual may not be aware of like when drivers opt for the "no-fault" auto insurance or conventional liability insurance coverage. But, regardless of the auto insurance policy, the driver has if you didn't file any report of the accident to your insurer, you can be penalized for such action or lose rights for an insurance claim.
Don't you know your legal rights after a car accident? Regardless your car accident led to serious injury or no injury, severe property damage or none, being involved in a car accident may have technicalities that only a knowledgeable lawyer with specialization in car accidents in Philadelphia can explain to you. If in doubt of what action to take after a car accident, consult a lawyer and discover the real score.