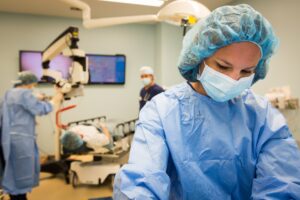 Patients have the right to proficient medical care from their health practitioners. Around 210,000 to 440,000 patients suffer medical malpractice in hospitals each year in U.S. Medical malpractice is the third leading cause of death in the United States. Medical negligence can cause life-changing injuries to patients. 
Statistics for Medical Malpractice Cases
There are more than 250,000 medical malpractice cases in the U.S. each year.
1 out of 14 claims are awarded more than a million dollars.
Neurosurgeons face a higher risk of malpractice than other health practitioners.
Only 2% of people who suffer from medical negligence file lawsuits to receive compensation.
More than 12,000 people die from unnecessary surgery each year in the United States.
About 1.5 million people suffer from medication errors each year.
Highest Medical Malpractice Payouts in the History of the United States
$11 Million To An Arizona Man
A man based in Arizona suffered fatal injuries such as plastic bags, ketchup packets and candy wrappers due to foreign objects in his stomach. An amount of $11 million was award to him as compensation.
$74.5 Million Due to Falsified Medical Records
Doctors failed to deliver a baby properly in California. The doctor didn't use forceps during the delivery and the infant suffers from cerebral palsy. He even falsified medical records to cover up their negligence. So, $74.5 million was awarded to the victim as compensation.
$58.6 Million Due to Infant Brain Damage
The doctor failed to do C-section delivery during a difficult birth. And the infant suffered a severe brain damaged. The child can't talk, walk and eat. So, the victim was awarded $58.6 million as compensation.
$38.5 Million Awarded to A Man in Florida
In 2008, a man started experiencing cramps in his body in Florida. The doctor suggested manual joint manipulations and the patient suffered a stroke during the procedure. He stayed in a coma for 4 years. The lawsuit was filed against the doctor who admitted that the procedure was unnecessary and $38.5 million was paid by the doctor as compensation.
$20.5 Million As A Compensation For Birth Injury.
A woman in Pennsylvania filed a lawsuit against her doctor as her baby suffered birth injuries. Her kid now lives with cerebral palsy and can't use his hands. The child received $20.5 million as compensation for his injuries.
Medical malpractice can have distressing effects on victims and their families. If you or your family members have suffered from medical malpractice or negligence in Philadelphia, count on one of the experienced lawyers or attorneys. By having an experienced Medical Malpractice Lawyer Philadelphia or attorney by your side, you'll obtain the appropriate settlement for your pain and suffering, mental loss and financial loss.